Super Sleep Over!!!!
August 25th - August 26th, 2017
As the kids begin a new school year, what time would be better for a Super Sleep-Over! It's going to be an awesome evening spent scooting and skating, consuming lots of yummy food, playing outrageous games, and of course, hanging with friends! We will even have a service project where the kids will stuff some back packs with school supplies to be shared with Towne South's adopted school for the year.
All kids are encouraged to bring at least one school supply
How?
Parents or guardians will need to come in and sign the children "in" that evening and "out" that morning. If someone else is picking your child up, you need to inform us that evening. This event is for all kids that are going into K-6th grades, and we encourage the children to invite their friends. Each child will need a sleeping bag, pillow, and sweats to sleep in.
Don't FORGET
your skates and scooters, and if you have an extra, please bring it to share. No skateboards or motorized scooters. Rip Sticks are allowed.
Sleep Details
Rest time begins at 11:30 when the children will be required to be sitting or lying on their bedding. We will conclude the evening with snacks and a movie, then rest until our pack-up/breakfast call at 7am. A light breakfast will be served at 7:30am. If you have any questions, please see or contact Sissy Giffin at sgiffin@tscoc.com.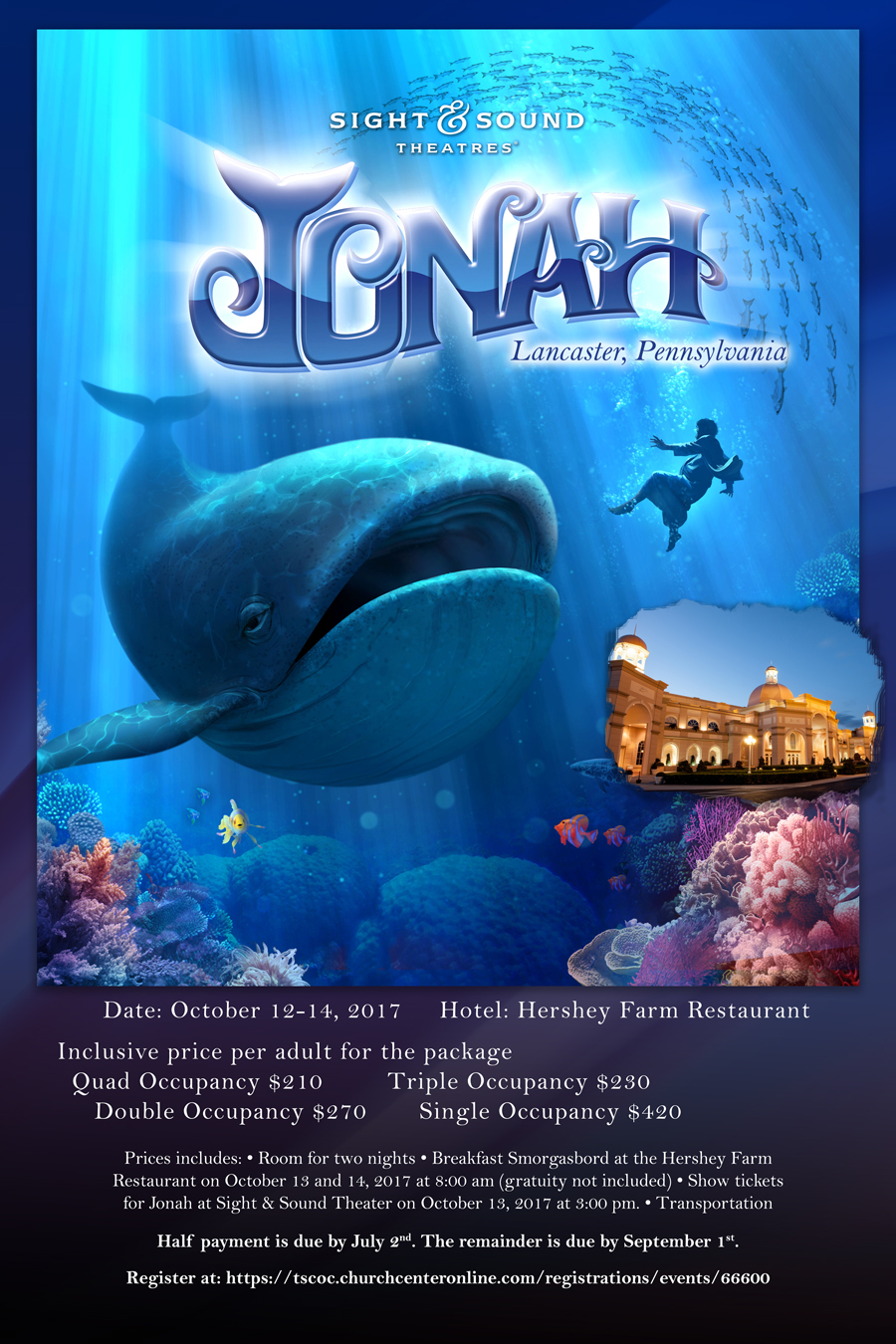 Sight and Sound Trip
October 12th - October 14th, 2017
$210 - $420
We are organizing a trip to the Sight and Sound Theatre in Lancaster, PA from October 12-14. We will be watching "Jonah." We will be staying at the Hershey Farm Restaurant.
Half is due by July 2nd. The remainder is due by September 1.
Prices includes: • Room for two nights • Breakfast Smorgasbord at the Hershey Farm Restaurant on October 13 and 14, 2017 at 8:00 am (gratuity not included) • Show tickets for Jonah at Sight & Sound Theater on October 13, 2017 at 3:00 pm. • Transportation